Quote
"I can't think of anything that demonstrates the sovereign nature of the self better than a blog." - Doc Searls
About the Author
Stowe Boyd
is a well-known media subversive, and an internationally recognized authority on real-time, collaborative and social technologies. His new blog is
Message
.
In the Pipeline:
Don't miss Derek Lowe's excellent commentary on drug discovery and the pharma industry in general at
In the Pipeline

January 31, 2006
For those reading Get Real... you should definitely take a look at my new blog, /Message, for the most frequent and up to date of my writing.
Comments (28) + TrackBacks (0) | Category: Media
January 16, 2006
Check out /Message, my new solo project. Among other things, I finding out how fast you can go from zero on Technorati, back to something like what I have achieved here at Get Real.
Comments (163) + TrackBacks (10) | Category: Technology
January 12, 2006
Spread throughout my recent writing, a certain latent idea is lurking, incompletely articulated, which I summarize in the title: the individual is the new group.
About a decade ago, the one of the then-current terms of art for social tools was groupware, and the term was intended to impart the core metaphor: groups need to collaborate, and tools need to be defined with that in mind. As a result, we saw the rise of application platforms like Lotus Notes, intended to counter the flaws of operating systems and applications that were organized around an earlier, less group-oriented metaphor of use.
The central motif of groupware solutions was the need for groups to have a shared repository for online documents, and a collection of communication and collaboration tools to enable a distributed team to collectively accomplish goals. These tools included email, group calendaring, discussion forums, shared to do lists, and real-time support, in the late 90s and early 00s, for instant messaging, chat rooms, and web conferencing.
This model of group collaboration has become the basic form factor of work in many large organizations. However, I have come to believe that this model is being eclipsed by a new epicenter of social context: the individual, rather than the group.
Contrasting group forums with blogging is a good example in which to make the distinction between group- and individual-oriented social tools. In group forums, members of a closed group can post threads and comment on them. It is a closed model. When individuals blog in the open web, trackbacks and comments allow discussions to take place that are -- in many cases -- logically equivalent to forums, but since each individual blogger decides where to turn their focus, and what other blogs to comment on, bloggers are members of many groups at the same time. More importantly, the structure of blogging supports that model directly. In a group forum, you are a member of that one group, and not a member of any others: the fact that you may be a member of other groups is not explicitly supported.
Another driver of this change toward the individual is the rise of instant messaging. I have said many times recently that "the buddy list is the center of the universe 2.0" -- meaning that the presence and real-time proximity of the most critical individuals in our lives is the center of our social interaction. The fact that a particular contact on my buddy list is the member of several groups in my life is less relevant that our social connectedness, individual to individual. While I am IMing a buddy about work related issues, I may veer off into personal issues. I am constantly switching context while in communication with individuals, and real-time communication supports that directly: its natural to do so.
So the groupware model of collaboration, where neatly partitioned worlds are created, and individuals are made to shift context in order to shift from one social thread to another, seems unnatural to me. The primacy of groups and group membership in old-school groupware is outmoded.
The shift to the individual changes everything, and in revolutionary ways. Moving from groupware premises to "soloware" shifts the dialog about standards and interoperability. In the old groupware model, a company would buy a groupware platform and applications, and roll it out across all the users. It was standardized because everyone was using the same rev of the same product. When the issue of interoperability and standards were brought up, it was approached from the perspective of inter-company communication, or different sites within the same company. But in the "soloware" model, individuals may be using completely different tools, and share nothing in common but certain standards. But the glue that connects the dots in the "soloware" world are standards like RSS, IM interoperability, and blog trackback conventions: standards that allow individuals to do their thing, but to allow bottom-up aggregation of their artifacts along social connections. The groups are there, but latent, implicit in the gestural relationships of crosslinking, tags, comments, and blogrolls.
I envision a time where even in the largest organization, our lives as individuals will define the norm for computer-assisted work. The model of "soloware" will displace the 90s ideals of groupware in exactly the same way that the pre-groupware assembly line models were dethroned in the 90s. In our work lives, even in the largest, most conservative companies, we are instantaneously involved in dozens of projects, with teams of people that are constantly changing, with outside consultants and partner companies, and there is no end in sight. When everything fractures away from stable, long-lasting, closed teams toward the exact opposite, what is left are individuals in contact with each other, through soloware: individual needs first, group needs second, by extension.
We are, first and foremost, individuals. The concept that whenever we do something it should be intentionally in the context of a specific well-defined group is outmoded, and was always an approximation of what is really going on, socially. We are involved in social relationships, and what we do with others is always social, but not necessarily part of a group, or only of one group. So, let's put aside groups, and focus on the individual. The groups will follow.
Comments (44) + TrackBacks (1) | Category: Technology
January 11, 2006
I stumbled upon 1000tags.com today (pointer from Tech Crunch), and I think there is something interesting going on there. The company is experimenting with a commercial tag cloud: people can pay to claim a tag exclusively, or can pay much less to share a tag.
[from the FAQ]
Why should I book (buy) a tag?

1000tags.com is - that we know - the very first project that offers booking and buying tags from a "tag cloud". Or in other words, it is the first commercial tag cloud. That means that it could be the proof of concept demonstrating that folksonomies can be an effective way to advertise.
As I understand, 1000 Tags will stop at 1000 tags, so it will be an artifically limited tag cloud -- along the lines of the Million Dollar Page, which was limited to a specific number of pixels.
Hmmm. This seems to hinge on the notion that people would go to 1000 tags as the starting point of a search, which seems strange to me. Perhaps if the people who pay for the placement also present the tagcloud at their websites, if might lead to traffic.
But even if the experiment doesn't directly work, I am sure that tag-based advertising -- either directly, like 1000tags.com is trying to do, or something more implicit, like a tag analysis service that serves up contextual ads -- is something destined to happen.
Comments (38) + TrackBacks (0) | Category: Technology
A thought provoking article on decision making in technology design by Richard Devon, which suggests that technology should be designed more democratically if it is to actually serve many constituencies:
[from SPT v8n1: Towards a Social Ethics of Technology: A Research Prospect by Richard Devon]

Taking a social ethics approach means recognizing not only that the ends and means of technology are appropriate subjects for the ethics of technology, but also that differences in value systems that emerge in almost all decision-making about technology are to be expected. The means of handling differences, such as conflict resolution processes, models of technology management, and aspects of the larger political system, must be studied. This is not to suggest that engaging in political behavior on behalf of this cause or that is what ethics is all about. That remains a decision to be made at the personal level. Rather, the ethics of technology is to be viewed as a practical science. This means engaging in the study of, and the improvement of, the ways in which we collectively practice decision making in technology.
[Pointer from Anne Galloway, who has more to say.]
Comments (35) + TrackBacks (0) | Category: Technology
Another page in the on-going hoo-ha about the evils inherent in online social networking, from the New York Times, where Nancy Hass reports on the ways that universities are starting to try to shut down the Facebook because of the fear of cyberstalking, or students posting pictures of themselves that show them drinking, or acting sexually provocative:
[ from In Your Facebook.com - New York Times]

"Every girl I know has had some sort of weird experience," says Shanna Andus, a freshman at the University of California, Berkeley. "Someone gets on a 'friend list' of one of your friends and starts to contact you. They met you at a party or checked out your picture online or went to high school with someone you barely know. It's just a little creepy."

Some colleges have taken action: in October, the University of New Mexico banned access to Facebook on its campus system, citing numerous concerns, including student privacy. Campus officials say they will restore the service for this semester. Mr. Hughes, the Facebook spokesman, says that when the site could not be accessed via the university's networks, half the users continued to sign on through outside networks.
Apropos of this cyberstalking thread, the US has recently enacted legislation that makes cyberstalking a criminal act punishable by up to two years in prison (see
Anonymous Trolls, Beware: You Are Breaking Federal Laws
). These are more manifestations of the growing conservatism of the web, a trend that has me worried.
Comments (238) + TrackBacks (1) | Category: Technology
January 10, 2006
Michael Kinsley writes a funny, but dead-on piece about the dumb process of making newspapers and delivering them to our doors, and why people are opting out:
[from Black and White and Dead All Over
by Michael Kinsley]

And so, at last, there are two piles of paper: a short one of stuff to read, and a tall one of stuff to throw away. Unfortunately, many people are taking the logic of this process one step further. Instead of buying a paper in order to throw most of it away, they are not buying it in the first place.

[...]

But it is hard to believe that there will be room in the economy for delivering news by the Rube Goldberg process described above. That doesn't mean newspapers are toast. After all, they've got the brand names. You gotta trust something called the "Post-Intelligencer" more than something called "Yahoo" or "Google," don't you? No, seriously, don't you? Okay, how old did you say you are?
Aggregation of many, many individual voices a la Google or Yahoo does become the new force to be reckoned with as the old school media titles have lost their luster. Even though Google and Yahoo don't have an editorial policy, per se, they are delivering the info soup that people are slurping up on the web, and are probably the replacement of the old stuff, in the long term.
In the near term, the newspapers continue to decline, losing money, readers, and perhaps their reason for existence. As someone pointed out recently, why do we have this strange combination of junk called a newspaper? Horoscopes, ads, classifieds, legal postings, politics, sports, bridge, and comics? Who wants all that junk? Not me.
One of the powers of the Web is this ability: to select the stuff you want, and drop the rest.
The younger generation have turned away from newsprint, to TV, and now the web. Older folks will continue to expect the dumb 3 pounds of newprint to hit their driveway every morning, until the end of time, but I bet that somewhere in the very near term that will become unaffordable, and will seem as quaint as the milkman leaving the cream for your breakfast on the front step.
Comments (48) + TrackBacks (0) | Category: Media
Apparently, it is now against federal law to anonymously "annoy" people on the Internet. So if you want to call me a lunatic, or basically just disagree with something I write, remember to use your real name, or you might get busted!
[from Create an e-annoyance, go to jail | Perspectives | CNET News.com by Declan McCullagh]

Buried deep in the new law [the Violence Against Women and Department of Justice Reauthorization Act] is Sec. 113, an innocuously titled bit called "Preventing Cyberstalking." It rewrites existing telephone harassment law to prohibit anyone from using the Internet "without disclosing his identity and with intent to annoy." To grease the rails for this idea, Sen. Arlen Specter, a Pennsylvania Republican, and the section's other sponsors slipped it into an unrelated, must-pass bill to fund the Department of Justice. The plan: to make it politically infeasible for politicians to oppose the measure. The tactic worked. The bill cleared the House of Representatives by voice vote, and the Senate unanimously approved it Dec. 16.
This is rich, obviously a case of unintended consequences, and yet another example of the paralyzing impact of inherent social conservativism smooshing into the Web. In the interests of trying to stop "cyberstalking," the US Legislature may have created a means to quash one of the last means available to individuals who wish to state their opinions online without the fear of repercussions. Note that the EFF has recommended that employees who wish to state their personal opinions about anything that is controversial should do so anonymously, to avoid the possibility of losing their jobs or other reprisals.
And "annoy" is a flabby term. Anyway, I am certain that this is unconstitutional, or at least I hope it is.
[pointer from Jeff Jarvis, who notes "The way we're headed — from the PC left and the religious right — it surely will soon be a crime to offend, too."]
Comments (72) + TrackBacks (0) | Category: Law
Comments (11) + TrackBacks (0) | Category: Telecommunications
January 09, 2006
Guy Kawasaki continues his streak of killer posts with The Top Ten Lies of Entrepreneurs. At the heart of Guy's list is the strange dynamic that goes on in the entrepreneur/VC dance. VCs are in business to make investments, which is risky. But they must take risks to get the kind of returns they are looking for, which are BIG returns. At the same time they know that not all their investments can be big winners: that's why they have a portfolio and distribute their risk over a bunch of companies. But they have to judge companies relative to the idealized model of a winning company.
Guy's Ten Lies cuts to the heart of this by trying to straighten out the preconceptions of entrepreneurs, which, to cut to the chase, means that you shouldn't tell lies:
Don't lie about yourself and your team. If you dropped out of college because this fleabag company is your dream, just say so. If you were a billionaire, you wouldn't be asking for money.
Don't lie about competition. Don't say it doesn't exist, that no one else can do what you do, that no one else could ever dream this stuff up, or that you have an unshakeable lead on other, larger competitors.
Don't lie about growth rates. Sure, by all means you have to predict growth rates in your market, and uptake of your product. And you have to base those projections on the assumption that your product or service will find willing customers. But don't fall back on "if we only get 1% of ..." or a strategy based on getting every breathing mammal on the planet to buy.
Comments (34) + TrackBacks (0) | Category: Technology
Ken makes some good points in this post about avoiding blog burnout:

[from TECHNOSIGHT » 7 Ways to Avoid Blogging Burnout]

6. Schedule some time off

Yes, there is a real world outside of the blogosphere! Go enjoy nature, check out a movie, visit a museum, be inspired by some architecture, or take in a play, concert, or sporting event. Get involved in your community or spend some much needed time with family and friends.
I think I'll go take a walk...
But Ken's post misses a couple of things I rely on, not necessarily with burnout in mind, but just to make blogging fresh:
Build a network of people who send you stuff they stumble upon -- new eyes see the world differently.
Wander around -- don't just read the same people all the time, or rely on the same sources.
Read your old stuff, and rehash it -- many folks looking at your blog today didn't read something you wrote 3 months ago. Dig it up, and extend the theme.
Write an post about blog burnout -- haha!
Comments (43) + TrackBacks (0) | Category: Media
Fred Stutzman, a PhD candidate at UNC, wrote an interesting analysis of adoption of Facebook by freshmen at that school. Amazingly quick adoption, and potentially sheds some insight into what goes on in the freshman year: people gain a lot of friends.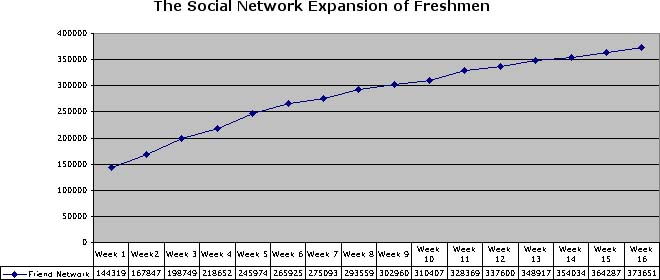 [from Student Life on the Facebook - chimprawk.blogspot.com]

While the actual number of nodes (the freshmen) in the network did not grow substantially over the course of the semester, the number of edges (friendship connections) in the network did expand remarkably. As the freshmen made friends over the course of the semester, their social network size grew from 144,319 to 373,651 connections. The average number of friends a freshman on the Facebook had on day one was 46, and at the end of the semester, he or she had 111 friends. This might give us a picture of how many friends a freshman might make the first semester of college: 65.
Gets very close to the so-called Dunbar constant (after author Robin Dunbar, of the inestimable Gossip, Groomin, and the Evolution of Language) of 150, the number of people we can maintain relationships with and not forget who are second cousins.
[pointer from Tola Oguntoyinbo]
tags: dunbar+constant, fred+stutzman, facebook, social+networks
Comments (79) + TrackBacks (1) | Category: Technology