« Peter Saint-Andre Agrees: Boycott Microsoft | Main | Ken Yarmosh on Blogging Burnout »
January 09, 2006
Student Life On The Facebook
Fred Stutzman, a PhD candidate at UNC, wrote an interesting analysis of adoption of Facebook by freshmen at that school. Amazingly quick adoption, and potentially sheds some insight into what goes on in the freshman year: people gain a lot of friends.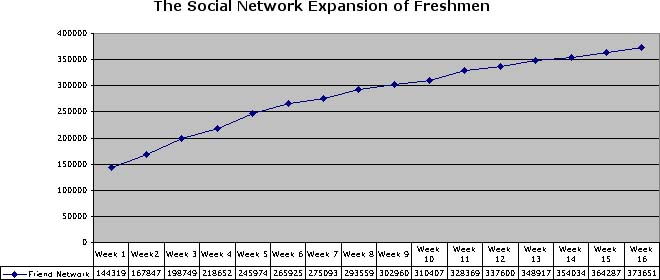 [from Student Life on the Facebook - chimprawk.blogspot.com]

While the actual number of nodes (the freshmen) in the network did not grow substantially over the course of the semester, the number of edges (friendship connections) in the network did expand remarkably. As the freshmen made friends over the course of the semester, their social network size grew from 144,319 to 373,651 connections. The average number of friends a freshman on the Facebook had on day one was 46, and at the end of the semester, he or she had 111 friends. This might give us a picture of how many friends a freshman might make the first semester of college: 65.
Gets very close to the so-called Dunbar constant (after author Robin Dunbar, of the inestimable Gossip, Groomin, and the Evolution of Language) of 150, the number of people we can maintain relationships with and not forget who are second cousins.
[pointer from Tola Oguntoyinbo]
tags: dunbar+constant, fred+stutzman, facebook, social+networks
Comments (79) + TrackBacks (1) | Category: Technology
RELATED ENTRIES